April 10th 2019
All You Need to Know when renting a Serviced Office in the United Kingdom.
Choosing to rent a Serviced Office in the UK is the easy part. What comes next is where it starts to get a little tricky. Furthermore, even if you know exactly where you want to locate, how do you navigate the confusing array of office lingo and space options available to you?
Do you take a dedicated desk in a co-working space? Are you more suited to hot-desking or a private office? Should you give pro-working a go?
While all of these decisions may feel overwhelming, the experts at Click Offices are here to help. Here we explain what you need to know about renting a Serviced Office in the UK, what is included in a Serviced Office, which areas would be best suited to you, rental costs and advise on office viewings. This is your one-stop shop for all things office rental in the UK.
What is included in a Serviced Office?
A Serviced Office is an office building that is entirely managed by a building operator. This means that all of the essential services, like electricity, broadband, cleaning, etc, are fully managed for you. In many cases, Serviced Offices will come fully furnished with extras such as secretarial services, printing services, etc. included.
Many buildings also have meeting rooms and event spaces that can be hired out. Depending on your building, the cost of renting out the spaces may or may not be included in your monthly bill. As all of these services are managed for you, you will receive only one handy bill each month,. This makes keeping track of your finances and budgeting for the future incredibly easy.
Serviced Offices are rented either by a hot-desk or dedicated desk in a co-working space, a private office, or a combination of the two. Depending on your needs, our office experts will be able to tell you which kind of space is best suited to you.
You rent the space on a per desk, per month basis. As you share the building with other tenants, your costs will be spread out among more people. This means you will be able to rent in some of the most desirable business locations that otherwise might have been out of your price range.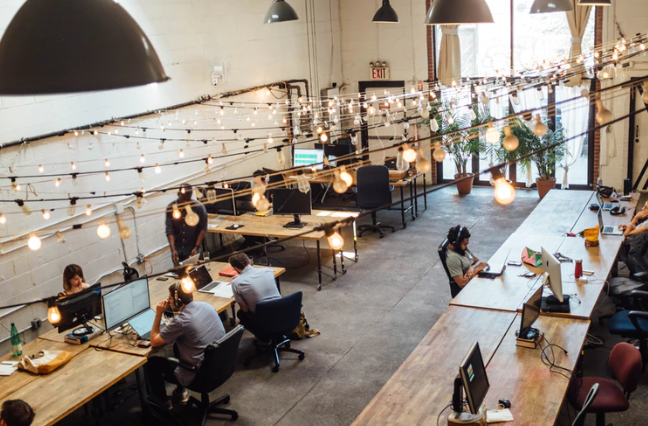 What is a Serviced Office rental agreement?
With Serviced Offices, there are no long leases. Instead, you will enter a rental agreement with your building operator. These rental agreements are much more flexible than standard leases.
Rental agreements are much shorter than leases and are usually anything from 3 months upwards, depending on your needs. As you don't need to tie yourself into long leases, it allows you to be much more flexible with your business, which is essential in this ever-changing economy. Ending your lease agreement also only usually requires a months notice, depending on your operator.
With Serviced Office rental agreements you can also alter your space requirements as you need. If you need to downsize or upsize the number of desks, you can by giving your building operator some notice.
The benefits of renting a Serviced Office in the UK
One of the most beneficial things about renting a Serviced Office in the UK is the flexibility that comes with your rental agreement.
With the uncertainty of the fallout of Brexit still looming, it is a comfort to many businesses that they don't need to tie themselves into long leases. Your rental agreement gives you the flexibility to change and grow as the market does.
You also have the chance to explore new markets in the UK. Your rental agreement gives you the flexibility to change your business location quickly and easily. This means that if you identify a key market for your business in a different location, you can either relocate and expand there easily. Many building operators also have multiple locations around the UK. They allow you to move between their locations freely, meaning you can work where you want to.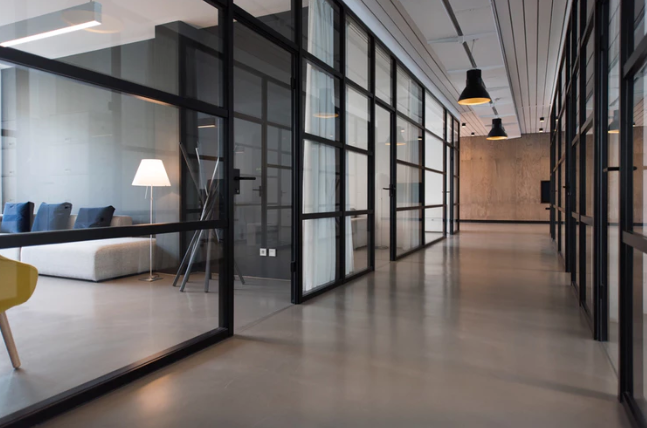 Who are Serviced Offices for?
Serviced Offices are designed for the freshest of start-ups to the most established large businesses. Your office expert will be able to find you the space that best suits the needs of your business.
Particular buildings are designed for start-ups and act as incubators for young businesses. The space will promote things like co-working, networking, and have a real community vibe. Others are geared towards more established businesses, who really want their office space to impress. These buildings will usually have more private offices and meeting rooms and client-facing services like a secretary. However, no two Serviced Offices are alike. Your office expert will listen to exactly what you need and find you the best space for the best price.

What influences rental costs?
For the most part, rental costs tend to be pretty consistent in areas. However, some things can influence the rental costs.
These include;
In demand, high-profile addresses
Building style
Office amenities and services
Interiors and design
Desk and office type
Additional services ex. (onsite gym, cafe, restaurant, event space, etc.)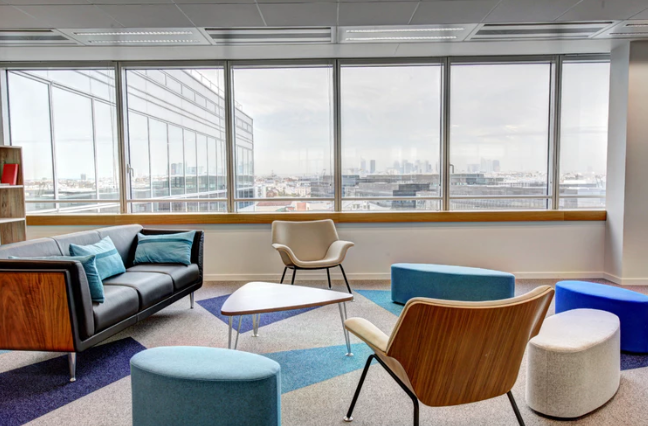 What to remember when viewing an office?
Being overwhelmed at an office viewing is a common occurrence. This can lead to you forgetting to ask certain questions or noticing particular things about the building. As a result, asking the right questions is incredibly important when you are viewing an office.
You can use our Office Viewing Checklist for your next viewing. This is a handy one-page print out that you can bring along and tick off the important questions as you ask them, meaning you always choose the best space for you.
Why should you use an office broker?
Using a broker, or as we call them "office experts", is a no-brainer. They can help save you time and money in your office search. Click Office experts will source you all of the best offices that suit your criteria, arrange viewings and negotiate price. They will help you through the entire office search process and beyond. The best thing is, our services are always 100% free for you to use. For more on this, check out our reasons to use a Serviced Office Broker in the UK.
You can contact our UK office experts on 0203 6422 777  or via email at [email protected]