November 8th 2021
There's always room to improve your recruitment processes, no matter what industry you're in. Sometimes businesses can put too much focus on simply getting people in the door, rather than motivating the ideal candidates to apply. There are so many ways that you can streamline your recruitment process to find the people who are perfect for the role and avoid a 'revolving door' situation of constantly employing people who are just not a great fit for your business. We'll outline some of the tweaks you can use in your recruitment process to ensure you find the right person for the job.
Effective Job Advertising Can Help to Find the Right Talent
Job ads could be the first thing a potential employee sees about the available role in your company. It's also your first chance to make an impression. Crafting these in a way that makes them inclusive, catchy, and informative is a hard balance to strike, but should be one of the first things you work on when a role opens up. They should speak in your brand tone-of-voice, giving a clear breakdown of what the role requires, but also not overdoing it with job-related jargon. Explain what makes your company unique and entice candidates to apply early. Be as descriptive about the role as possible, to make sure candidates know exactly what will be required of them.
Alternative Ways to Reach Out to Candidates
We are living in the age of social media, which can be a fantastic way to reach out to potential future employees. Websites and apps such as Facebook, Twitter, Instagram and (perhaps most importantly) LinkedIn can help to advertise roles completely free of charge and are extra lines of communication that you can have with candidates that are already in the process. A social media presence for your company is critical in this day and age, so utilising these sites to your advantage in the recruitment process is a great way to find people of different skill levels and professional backgrounds.
Networking to Employment, and Talent Pipelines
Networking is a standard in business these days and can often lead to a successful hiring. One other key aspect of networking, however, is to build talent pipelines which can drastically reduce your time-to-hire when a new role opens up, by sourcing candidates well ahead of time. Roles that may need pipelines can typically be high turnover roles and roles that are hard to fill, which makes these pipelines critical to getting someone qualified in quickly. Be sure to keep in regular contact with those in the pipeline, to keep them engaged with the recruitment process.
Streamlining Your Recruitment Process
Ensuring a clear step-by-step approach to recruiting needs to be at the forefront when attempting to find new talent. Having a thorough and easily followed process will not only help you to find the right people, but also get them into the role quickly. You can try things such as:
Role checklists to help to disqualify those that do not meet your company standards
Clear interviewing stages (Stage 1, Stage 2, Stage 3, Decision-Making, Feedback)
Pre-determined interview questions that align with company ethos
E-mail templates (referrals, interview invites, rejections)
Keeping Candidates Keen and Interested in the Role
When you have candidates in the recruitment process, it's vital that you keep in contact with them to prevent them seeking roles elsewhere. If they've already passed multiple interview stages, or tick many boxes for that particular role, ensuring contact is important in keeping them engaged with your business. Qualified people are likely considering multiple offers, so you need to make sure you're at the forefront of their mind by having regular correspondence with them, even if it's just to update them that there's no news just yet. It's also crucial to keep in mind protected characteristics when hiring, to stay on the right side of the law.
Utilise Your Current Employees by Setting Up a Referral System
Those in higher positions in a company may not be the only ones who enjoy a bit of networking. Utilising your current employees to find or recommend new talent can be a perfectly valid option. You can help this by setting up a referral program. These give incentives that help your employees to source great people for any open roles and bring them straight to the door. You can offer a monetary reward for successful hires, or things such as weekend breaks away or small gifts. No matter the reward, it will pale in comparison to your business finally filling that role with a great new employee.
Showing Off Your Company Culture Can Be Free Advertising
As discussed before, optimising your social media channels can be a great way to advertise, for free, to the world exactly what your business is about. As well as these, revamping your company website should be a priority, as any future candidates are likely going to pay a visit to your website to get a bit more information about how you operate as a business. So, showing off your company culture, through a slick new website and regularly updated socials showing off your office space is a great way to entice the best talent to apply.
Attending Events to Meet Potential Future Employees Face-To-Face
The recruitment process doesn't just have to be done digitally. At one point, meeting people in person was the standard for hiring, and it's not obsolete just yet. Attending industry events is a fantastic way to meet elite candidates that may be looking for new roles. Not only this, but you can also meet other industry big-players and form lasting relationships that can benefit both parties. If you're visiting an event in a different country, you might want to know how cultural and business practices differ around the world. Reading a resume can give you an indication of a person's ability but meeting them face-to-face can tell you so much more about how they could fit into your company.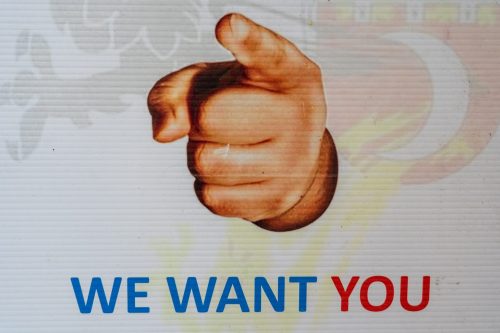 So, your recruitment process doesn't have to be the typical 1-2-hire of the past. It can be more engaging for prospective candidates, keeping them in the loop the whole way through. Boosting your presence within the industry and online to establish yourself as a big player.  We hope these steps gave you an insight into how you can make the recruitment process as smooth as possible by optimising across the board how you get people engaged enough to walk in the door.
If you're already recruiting and need more office space to accommodate all the new faces, you can take a look at our Serviced Offices or Managed Offices to find an upgrade to your current space!